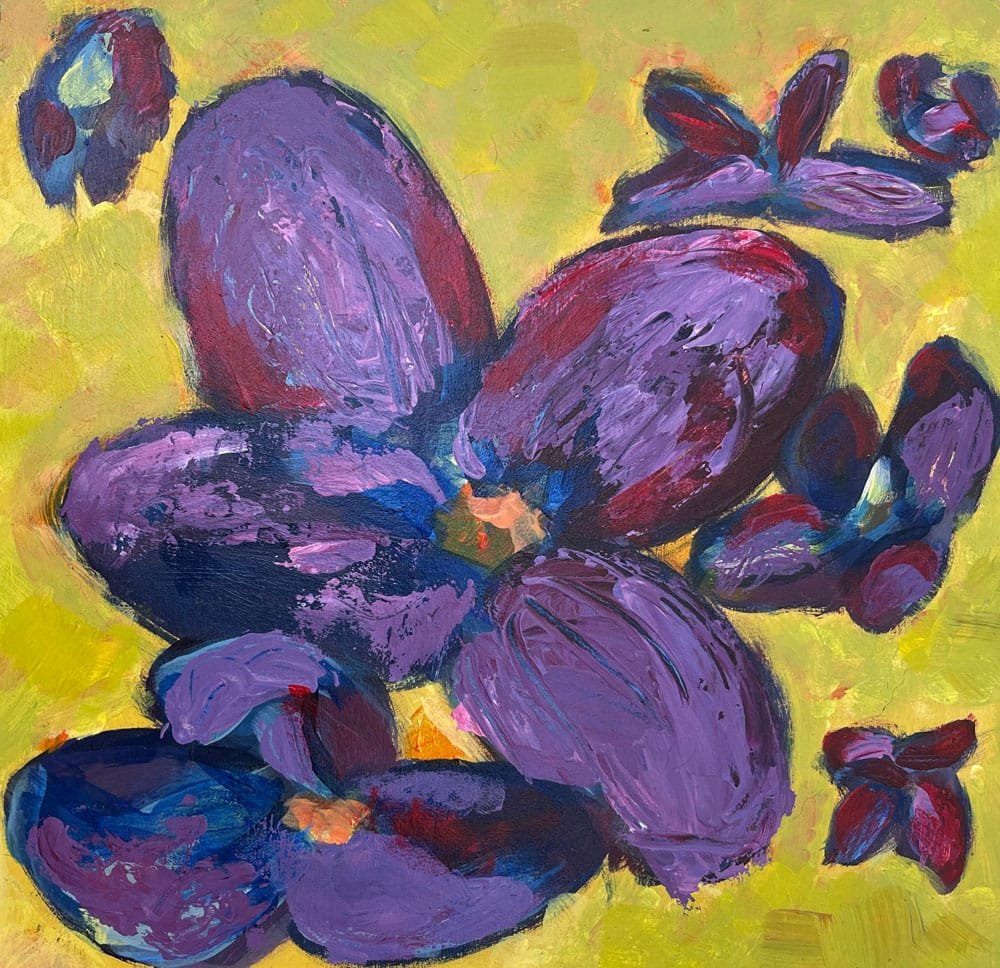 The Arts Alliance of Georgia is hosting artist talks this Saturday, January 8th. I'm excited to have three small (8″ x 8″) paintings in the show. One of them, Violets #03, was an honorable mention. Peace from my Pantheon series is also on display at the same location.
Talking about art in front of people is hard. Do they want to know about the materials? What inspired the work? Is the answer " I felt like painting some flowers and I had these paints" an okay thing to say? Whoops that is more of a nightmare. A lot of my subjects have a deeper personal meaning to me. Someone else might see some red roses where what I see is a reminder of hope and dedication. As fun or scary as it is speak in public, it's also an opportunity to share and connect. You can learn more about my perspective and approach to art on my about page.
Here are the details:
Saturday, January 08, 2022. Hours 1PM – 4PM*
Buckhead Library, Meeting Room A
Please join us for the ARTISTS TALKS on Saturday, January 08, 2022*. The artists who created the first, second and third-place pieces will begin their ten-minute talks at 2PM, discussing their inspiration and methods. Artists scheduled to speak: Myrtha Vega, Bella Augard Durham, Patricia Hahn
*Reception dates may change due to COVID conditions
EXHIBIT PROSPECTUS:
Arts Alliance 2021 – Juried Studio Art Exhibit – "Welcome Back!" is an Artist Choice exhibit (no prescribed theme). Entrance is juried, and prizes are awarded for Best in Show, as follows:
Arts Alliance 2021 – Juried Studio Art Exhibit – "Welcome Back!"
Venue: BUCKHEAD LIBRARY
269 Buckhead Ave. NE, Atlanta, GA 30305
Tel. 404-814- 3500
Hours: Mon-Tues:10am-8pm, Wed-Sat 10am-6pm; Sun-closed
Venue URL: https://www.fulcolibrary.org/locations/BUCKHD/
Exhibition Dates:
EXHIBIT – NOV 1, 2021 to JAN 29, 2022 (3 months)
AWARD RECEPTION – SECOND SATURDAY OF DECEMBER (12/11/2021 12NOON-3PM)*
ARTIST TALKS – SECOND SATURDAY OF JANUARY (01/08/2022 1PM-4PM)*
EXHIBIT DEINSTALLATION – SATURDAY JANUARY 29th (10AM to 12NOON)*
*Dates may change due to COVID conditions
Reception Location: Meeting Room A, public welcome.