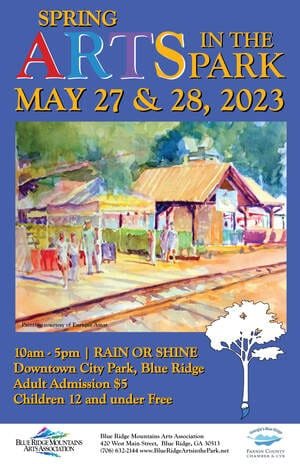 In the mountains! That's where I will be this Memorial Day weekend as part of Spring Arts in the Park. I'm honored to be selected as one of 100+ artists and makers to be a part of the 47th annual Spring Arts in the Park in Blue Ridge, Georgia. I've been a member of the Blue Ridge Arts Association for two years now and this will be my first time attending this festival. There will be new paintings of horses, wine, florals, mountains and more!. I plan to sketch or paint live both days, so follow me (@lsjart) on instagram for when I'll be hosting demos.
Read more

: Spring Arts in the Park – 47th Annual, 2023, Blue Ridge, Georgia May 28th – 29th
I love the mountains in this area. When I hike to an overlook or take in a mountain view, I am inspired by all the things they represent to me. Mountains for me are a metaphor for serenity, possibility and adventure. On a deeper level, they represent the journey we travel in life, going from the known into the unknown so we can grow.
Event Quick Info:
Details from the organizers:
For 47 years, the Blue Ridge Mountains Arts Association, a non-profit arts council, has provided a unique art experience through our Arts in the Park festival series in the Downtown City Park of Blue Ridge, GA. Whether your travel plans are in the spring or in the fall, these art festivals are fun for the whole family. Located at the foothills of the Appalachian Mountains, the Arts in the Park festival series draws in excess of 20,000 attendees annually and a wide array of artists and food vendors. With over 170+ artists, exhibitors, and vendor booths, our visitors enjoy a variety of fine arts and fine crafts, demonstrations, food, and much more during the Arts in the Park festivals.

Listed as one of the top five Art Towns in Georgia by the Georgia Council of the Arts and recognized in the last five consecutive years as one of the top ten fine craft towns in America by American Craft Week, Blue Ridge is a top art destination and features a unique artistic experience for visitors and residents alike.

The Arts in the Park festival series supports the Blue Ridge Mountains Arts Association, a 501(c)3 non-profit arts council providing opportunities in the realm of the arts for the individual and serving as a catalyst for arts and economic development in our community.