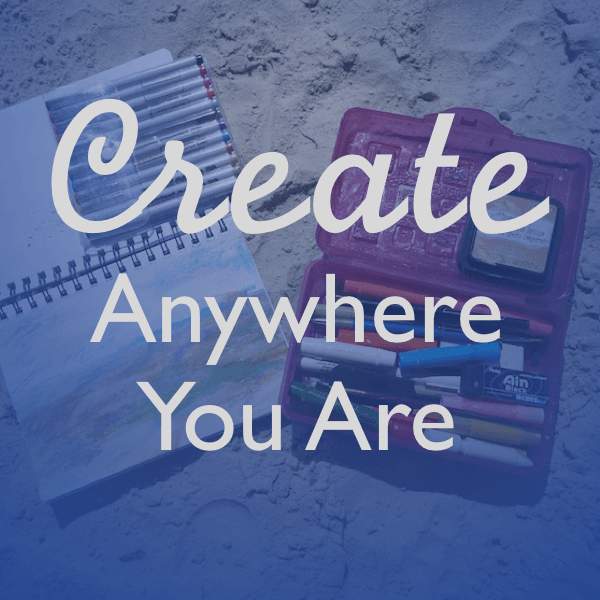 Have you ever gone somewhere and then realized you had nothing with you to draw or paint? Never be without creative supplies again with today's tips. I'm going to share with you how to be ready to create wherever you are by putting together an artist go bag.
I was on vacation at the beach a couple of weeks ago (Yay!). This was a great chance to sketch and create. Luckily I had packed a "go bag" of art supplies. This is a pared down kit of what I have in my studio at home. I like to carry materials that are easy to take with me and don't make a big mess or require a lot of time to set up.
TLDR: For sketching on the go, experiment and find what you like. Start with a pencil, pen, sharpener and an eraser and a sketchbook.
The minimum you need with you is:
2B Pencil
white plastic eraser (or a pink pearl, available at most grocery stores)
Paper (an acid free mixed media sketchbook is best but a few sheets of paper will do)
You can get a lot fancier though and put together a mobile kit that will let you create all sorts of paintings and sketches on the go. Here is what my beach painting kit looked like:
I have a small plastic pencil box I use to carry a set of portable art supplies for painting and sketching. Here is what is inside it:
Various sizes of acid-free pens
A small filbert (rounded) paint brush for washes
a regular small rounded paint brush for watercolor
an eye dropper
A stadler pencil holder with 2B and HB leads
A Sharpie with a fine point
A black plastic eraser
An ink based archival quality stamp pad (I like the distressed effect ones for adding tone to backgrounds)
Gelato crayons of different colors
watercolor markers or pencils
A note about the Gelatos: these are gel based water soluble pigment sticks that make large marks on paper. You can shave and blend them with water first, but I like to use them to lay color down onto the paper then go back over with a brush. I usually lay down one color at a time or at the most two so the colors don't get muddy.
You can easily carry this box of supplies in a tote or backpack or large purse. I like a smaller sketchbook, 5.5″ x 8.5″. I don't recommend carrying around an 11 x 14 size. Carry something you can easily take with you and later on scan pages.
The point of a portable kit isn't to make amazing art. A portable kit is great for:
Visually documenting colors and shapes and mood in real time
Reference for other projects
A no fuss way to develop a daily creative habit
A great way to relax and enjoy the surroundings
Visually capture ideas and feelings
Making a keepsake of a memory for later
Fun!
I ended up with a few great little paintings from my trip and some meh ones but that was OK. It's about the journey and on the journey you want to have a way to create anywhere you are.
You can see what I usually carry in an even smaller bag for drawing/sketching and get extra tidbits on materials on this video I put together.
I hope you enjoyed the tips and info in today's post. What do you struggle with when traveling as a creative?