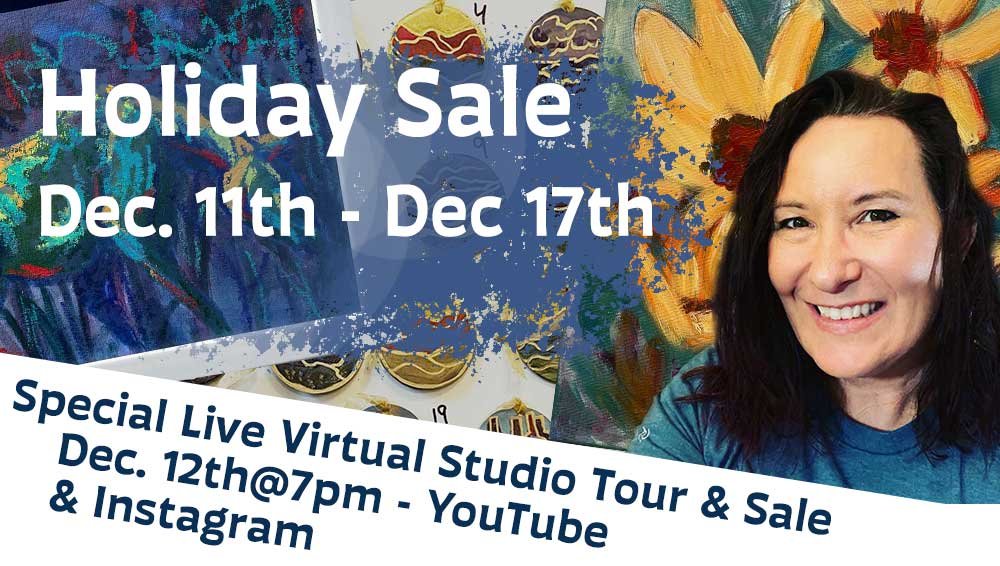 I'm excited to share updates on events and happenings for December. I'll have paintings on display in Small Town, Small Works now through December 23rd at Woodstock Reeves House. Hand painted ornaments and paintings large and small will be on display as part of the Blue Ridge Arts Holiday Show and Sale through the 17th. The angle wings ornaments are going fast! Lastly, I have ten paintings featured in the Arts Alliance Celebration & Exhilaration show at the Buckhead Library through January 20th. I might do one or two more small events and plan to do a virtual live studio open house.
Links to the events are listed below and more there are more details if you scroll down. I hope to see you at one of the events. I'll be updating my instagram with location and event highlights. (@lsjart). I'll also have special giveaways and freebies. If you see me in person, mention this post or my instagram for your choice of 10% off your purchase or a set of 5 post cards or stickers.

Now – December 17th, Blue Ridge Arts Holiday Show & Sale & SAAG Marvelous Minis Sale
Now – December 23rd, 2022: Small Town, Small Works, Woodstock, Georgia
December 11th- December 17th: Online Holiday Sale
December 12th, 2022 @7pm: Virtual Open House (Instagram Live)
December 18th, 2022: @7pm: Holiday Special (Virtual): new painting reveal, Eggnog tasting, cookie recipes, and fun!
Now – January 20th, Arts Alliance Winter Show: Celebration & Exhilaration, Buckhead Library, Georgia
SMALL TOWN, SMALL WORKS
This juried show features over 157 works of art in all mediums and categories by 58+ local area artists. All works are 15 inches or smaller. There are drawings, fiber arts, sculptures, paintings, and more! I was very impressed by the range of affordable art and the incredible talent of my local community. One of my pieces sold the first night and I have one left (as far as I know), #3 in my Tree Songs series. It is an intuitive forest painting in acrylic on gallery wrapped canvas, painting on all sides. Show Dates: October 27th – December 23rd, 2022. Location: Woodstock Reeves House, Woodstock, Georgia. More details on the show website.
Arts Alliance Winter Show: Celebration & Exhilaration
What happens when four local artist form an arts non-profit and put on a winter show? A vibrant display of art in a wide range of styles, techniques, sizes and surfaces! Scroll down for a preview of a few pieces from the show and see the pinned reel on my instagram for a virtual tour.

Several popular paintings are featured including "Wild Sunflowers 1, 2, & 3", "Discovered Country: Patriarchs" , "Wild Spirits" (Horses). Exhibit is available during library hours of operation.
Arts Alliance 2022 – Invitational Art Exhibit – "Celebration & Exhilaration"
Venue: BUCKHEAD LIBRARY, 269 Buckhead Ave. NE, Atlanta, GA 30305 , Tel. 404-814- 3500
Hours: Mon-Tues:10am-8pm, Wed-Sat 10am-6pm; Sun-closed
Venue URL: https://www.fulcolibrary.org/locations/BUCKHD/

https://youtu.be/oj64G0MpRQc
Preview of Holiday Show (ornaments) & Arts Alliance Show